Judith Brin Ingber is an international expert on Israeli and Jewish dance. Learn about her upcoming events, recent articles and more.
---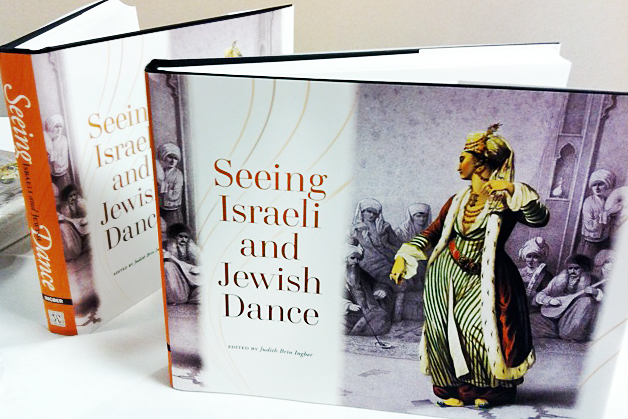 Jews and Jewishness in the Dance World - Conference 2018 presents:
Judith Brin Ingber
Author Presentation and Book Signing
Thurs, Oct 11, 2018, 7pm
Changing Hands Bookstore, 300 West Camelback, Phoenix, AZ 85013
More info here.
In Seeing Israeli and Jewish Dance, choreographer, dancer, and dance scholar Judith Brin Ingber collects wide-ranging essays and many remarkable photographs to explore the evolution of Jewish dance through two thousand years of Diaspora, in communities of amazing variety and amid changing traditions. Taken together, this wide range of expression illustrates the vitality, necessity, and continuity of dance in Judaism.
---
Conney Conference
on Jewish Arts
will take place at the 92Y, NYC, March 31-April 2, 2019. For updates and Judith's involvement, see http://Conneyproject.wisc.edu. Also, see Judith's Conney keynote address "Myopic or Blind?" in 2017 on the website link Video Archives plus her previous papers in the other conferences as well as videos of the Jewish Choreographer's Workshops she's directed.
---
Sara Levi-Tanai
The recent Hebrew biography of Sara Levi-Tanai A Life of Creation (Haim Shel Yetzirah), includes Judith's chapter "Turning Dance Assumptions Upside Down." Download the English version here.
News & Events
Judith Featured in Upcoming Conference
Join Judith and colleagues at the Conney Conference for Jewish Arts for the first time in New York at the 92Y. The exciting dance programming on the afternoon of  March 31 will be combined with Catherine Tharin, Dance Curator at the 92Y's  Harkness Dance Center; Ruth Goodman, Israeli Folk Dance Director at 92Y; Doug Rosenberg, director of the Conney with Judith looking at views of Israeli folk dance in America, the role of the 92Y in the past, and today as well as dancing together. April 1 and April 2 will have many special Conney presentations and programming. Watch the website for further developments: https://conneyproject.wisc.edu
Judith has also been featured at the Conney Conferences on Jewish Arts, held at the University of WI, Madison and at University of Southern California. For her keynote address in 2017 and other papers see The Conney Project website, see here.
---
See last line of Dance Magazine's "The Latest News" in the current October issue: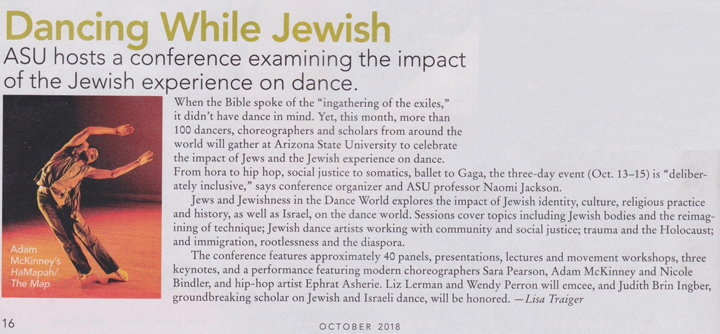 She is also curator with Naomi Jackson of the photography and book exhibition at Noble Library, Arizona State University Campus, "Reimagining Communities Through Dance."
Before the conference, Judith presents her book "Seeing Israeli and Jewish Dance" at the Phoenix bookstore Changing Hands (see right sidebar for details).
For further information about the conference, see https://jewishstudies.clas.asu.edu/jewishdance. For special information on Judith's participation, see the Keynotes and Special Invitees.
---
Judith's newest dance "WHERE?" Part of ICON SAM TEMPLE DANCES
Judith's new trio, WHERE?, was seen in a remarkable 11 performance series ICON SAM TEMPLE DANCES produced by artist-in-residence Sally Rousse in downtown Minneapolis. The performances in the 1888 historic Masonic Temple (now known as the Hennepin Center for the Arts) took place in a "hysterical historic romp" Rousse said, through the alley, studios, hallways, old wrought iron curving staircase, elevators, conference rooms as well as the building's two proscenium theatres. To see the works by 8 different choreographers, audiences took simultaneous tours with 3 different guides throughout the historic 8 floor building. Judith's dance WHERE? on the main floor, began the whole extraordinary event. One could hear the mystical musical accompaniment to WHERE? on the first floor, composed by flutist Jim Miller based on the ancient chant of Solomon's Song of Songs.
---
Judith and Ohad Naharin
"Mr. Gaga", the documentary film about Israeli choreographer Ohad Naharin continues to be shown throughout the US and internationally. Judith was featured in a Q and A following the screening of "Mr. Gaga" at the Jewish Film Festival in Palm Springs, CA. For the festival publicity, Tomer Heymann, award winning-filmmaker of "Mr. Gaga" created a new 3 minute clip of Judith speaking about Ohad, click here.