Judith Brin Ingber is an international expert on Israeli and Jewish dance. Learn about her upcoming events, recent articles and more.
---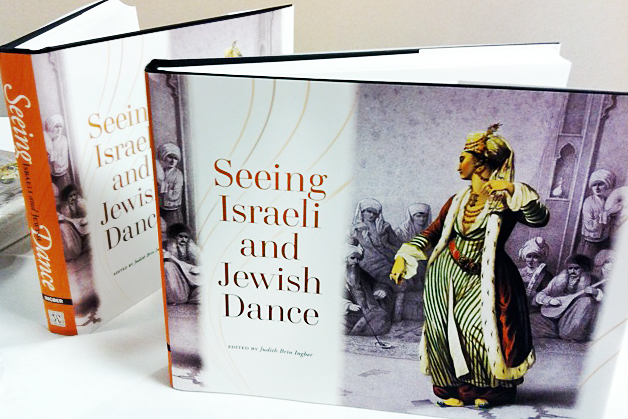 With authors from Seeing Israeli and Jewish Dance offering papers at the recent Conney Conference on Jewish Arts in Los Angeles, it was also great to have the book available. Judith Brin Ingber, Nina Spiegel and Janice Ross's presentations are all available on The Conney Project website, here.
---
Sara Levi-Tanai
The new biography of choreographer, company director, writer and composer Sara Levi-Tanai A Life of Creation (Haim Shel Yetzirah), includes a chapter by Judith Brin Ingber. Called "Turning Dance Assumptions Upside Down," Judith's chapter can be downloaded here in translation. (For further info, see Published Writings).
---
Minnesota Women's Press
For Judith's newest article about body image and the dancer, see the August MN Women's Press.
MN Women's Press co-editor and co-publisher, Norma Smith Olson said the essay was "one of the 'most read' stories on the website for MN Women's Press this past week."
News & Events
Judith's newest dance "WHERE?" Part of ICON SAM TEMPLE DANCES
Judith's new trio, WHERE? is part of the upcoming ICON SAM performances, June 14-June 24 at the Hennepin Center for the Arts, produced by the Cowles Center for Dance and the Performing Arts. ICON-SAM, conceived and directed by Cowles artist-in-residence Sally Rousse, will be a "historical/hysterical romp throughout the Hennepin Center for the Arts, formerly known as the Masonic Temple," she says. Judith is joined by dancers Rahila Coates and Susana di Palma for her trio, with original music by Jim Miller. ICON SAM takes place at 528 Hennepin Ave, the audiences in a guided tour throughout the 19th C. building, formerly a Masonic Temple, stopping not only to see Judith's trio but award-winning dancemakers Wynn Fricke, HIJACK, Lise Houlton, Judith Howard, and Sally Rousse. For details click here.
---
Upcoming Conference
Judith is participating in the upcoming conference "Jews and Jewishness in the Dance World" Oct 13-15, 2018 at Arizona State University in Tempe. (for more information write: Naomi Jackson). Judith creates a special dance photo exhibition of Jewish Dance at the main library of ASU for the conference; presents an evening book talk about her book "Seeing Israeli and Jewish Dance;" and there'll be some kind of as yet mysterious recognition, explanation possible after Oct. 15.
---
Judith and Ohad Naharin
Judith writes a new bio entry about Ohad Naharin for the autumn Paris Opera Ballet Brochure on the occasion of his staging of "Decadence" for the company.
Mr. Gaga, the documentary film about Israeli choreographer Ohad Naharin continues to be shown throughout the US and internationally. In March, at the Jewish Film Festival of Palm Springs, CA, Judith was featured in a Q and A. For the festival publicity, Tomer Heymann, award winning-filmmaker of "Mr. Gaga" created a new 3 minute clip of Judith speaking about Ohad, click here.