Judith Brin Ingber is an international expert on Israeli and Jewish dance. Learn about her upcoming events, recent articles and more.
---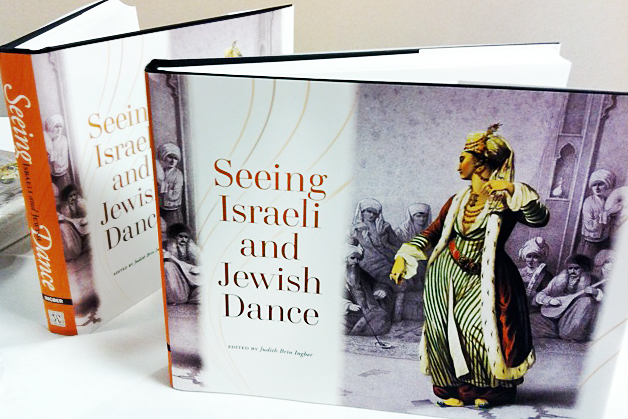 In Seeing Israeli and Jewish Dance, choreographer, dancer, and dance scholar Judith Brin Ingber collects wide-ranging essays and many remarkable photographs to explore the evolution of Jewish dance through two thousand years of Diaspora, in communities of amazing variety and amid changing traditions. Taken together, this wide range of expression illustrates the vitality, necessity, and continuity of dance in Judaism.
---
Judith and "Mr. Gaga" or Ohad Naharin
Judith's cameo appearance in the documentary film about Israeli choreographer Ohad Naharin shows her as one of his teachers; she speaks about him early in his career. "Mr. Gaga" continues to be shown throughout the US and internationally.
Judith was featured in a Q and A following the screening of "Mr. Gaga" at the Jewish Film Festival in Palm Springs, CA. For the festival publicity, Tomer Heymann, award winning-filmmaker of "Mr. Gaga" created a new 3 minute clip of Judith speaking about Ohad, click here.
---
Sara Levi-Tanai
The recent Hebrew biography of Sara Levi-Tanai A Life of Creation (Haim Shel Yetzirah), includes Judith's chapter "Turning Dance Assumptions Upside Down." Download the English version here.
Sara Levi-Tanai inspires not only adults but also children in this new picture book about her remarkable life.
News & Events
Judith co-edits September 2019 issue in English of Israeli dance magazine Mahol Achshav (Dance Today) #36 of International writers.
The issue covers the remarkable "Jews and Jewishness in the Dance World" conference at Arizona State University in fall 2018. The writers are from Berlin, Paris, London, Buenos Aires, Los Angeles and elsewhere around the globe, with rare historic photos and commentary on the dialogue between what is Jewish and who is in Jewish dance in Israel and abroad.

Read Judith's introduction to this issue and article, "Correcting a Published Error: 'Kamila Rosenbaumová, the Choreographer of Theresienstadt's Broučci and Brundibár died in Auschwitz' and Other Quandaries"
---
Special Citation awarded Judith Brin Ingber as ground breaking scholar in Jewish and Israeli Dance
This was noted in the Dance Magazine autumn issue: Dancing While Jewish
---
In Mahol Achshav (Dance Today) issue #35, read Judith's coverage of the lastest International Dance Exposure Festival in Tel Aviv.
Link to her article: "24th International Exposure Festival of Israeli Dance at the Suzanne Dellal Centre for Dance, December 5-9, 2018" by Judith Brin Ingber
---
Judith's latest dance was part of City Pages' Best Performance of 2019. 
Link to the article on City Pages
Judith's new trio, WHERE?, featured dancers Susana di Palma (in fez on left), Judith (center) and Rahila Coates (right). Projected behind the trio was an actual historic Masonic backdrop of Solomon's Temple [Top photo courtesy of Lance Brockman and the Performing Arts Archives of the University of MN].
Judith's dance WHERE? on the main floor, began the whole extraordinary event. One could hear the mystical musical accompaniment to WHERE? on the first floor, composed by flutist Jim Miller based on the ancient chant of Solomon's Song of Songs.
---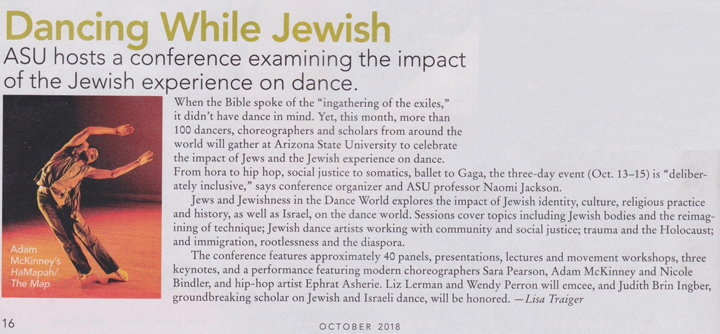 In conjunction with the conference, Judith and Naomi Jackson co-curated "Reimagining Communities Through Dance", a large wall exhibit with books and memorabilia at Noble Library, ASU. Click to view the panels.If you are interested in re-mounting exhibition, contact naomi.jackson@asu.edu